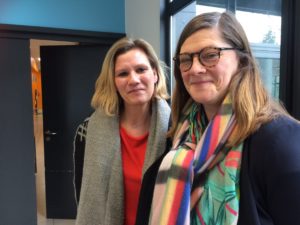 It was lovely to be back in Estaires, northern France, last week (7 February 2019) – even briefly –  and see our friends from the College du Sacre Coeur, the local history society and the Town Hall.  We've been working with Estaires to mark the centenary of the end of World War One for nearly 18 months now.
We had lunch with Anne Debette, Sylvie Mignot and colleagues at the school (which put on such an amazing display when we visited last November).
Then we went to the Town Hall to pick up the exhibition boards which have been there since November. (Hopefully these boards will be back on display – with the entire exhibition – in Camborne in time for Remembrance Day this year).
En route we called in at Sailly-sur-la-Lys graveyard, not far away, where the former Cornish policeman Thomas Penhorwood is buried. We visited this graveyard with Camborne Youth Band last August.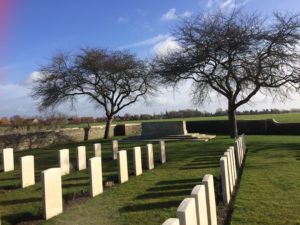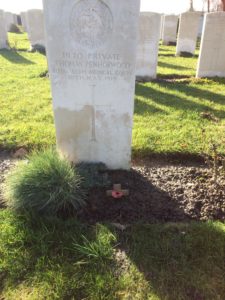 It's amazing how clean these graveyards look – expertly maintained by the Commonwealth Graves Commission. They were created in the years following the war, so nearly 100 years has passed. But they look almost new.