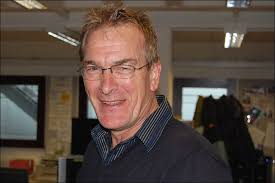 We're currently working with Camborne Youth Band on a trip to France and Belgium this August as part of Heart of Conflict.  At the moment, everyone is raising funds to make sure that all the players will be able to go.
Ralph Williams of Barriper, father of Corey Williams who plays in Camborne Youth Band, had a great interview with BBC Radio's Laurence Reed (pictured above) yesterday (8 March 2018). Camborne Youth Band has been invited to play at the Last Post ceremony at the Menin Gate.
Listen to the end when Ralph springs a surprise….