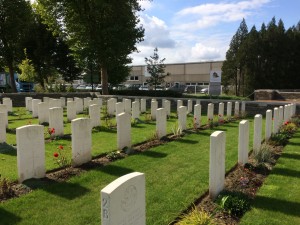 A Cornish policeman who was killed on the Western Front will be honoured this August by Camborne Youth Band who will lay a wreath on his grave at Sailly-sur-la-Lys, northern France.
Thomas Penhorwood was serving in the 25th Field Ambulance, Royal Army Medical Corps, when he was killed in 1915.   He was one of a group of Cornishmen, led by Camborne doctor William Blackwood, who signed up soon after war broke out in autumn 1914, and went straight to Estaires, northern France.  These men organised three matches in spring 1915 between Cornish and Devon men after Camborne Rugby Club sent out a ball – more about that here.
Penhorwood, one of the best Cornish forwards, was killed between the second and third matches.  He was shot in the head on 10 May 1915 at Aubers Ridge, while retrieving the wounded from no man's land.  For more about Penhorwood, click here.
This year, the centenary of the end of the war, Camborne Youth Band will visit his grave at Sailly-sur-Lys, near where he died, on Saturday 25 August and play the last post. Corey Williams, the great great grandson of Fred Negus, one of the Cornishmen in the WW1 rugby team, plays in the band and has his great great grandfather's bugle.
The Band will then go to Estaires, the town where the Cornishmen were stationed and present a rugby ball recently signed by Cornwall and Devon teams to mark the centenary of the rugby matches on the Front.
The following day, the Band will play at the Menin Gate, Belgium.
Please email info@bridging-arts.org if you would like to know more about this fantastic occasion.  We are delighted to have Heritage Lottery funding for this work.