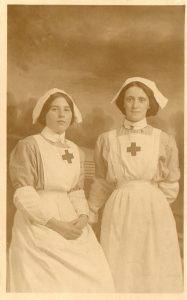 A long distance love story between a young Cornish miner from Dolcoath and a young woman from Beacon, Camborne, is being remembered this Armistice Day in France by his descendants and the French family who welcomed him to their home in World War One.
Camborne man Lesley Pentecost was a miner at Dolcoath when he signed up in 1914 with other young men from the area. Led by Camborne doctor, William Blackwood, they joined the Royal Army Medical Corps and went straight out to the Western Front. They went first to the town of Estaires, in northern France, where some were billeted with local families.
On Armistice Day weekend, Lesley's descendants, led by his granddaughter Alison Pooley of Illogan, travelled back to Estaires and met descendants of the Smagghue family in whose house Lesley was billeted in the war.
Alison presented photographs and postcards to the Smagghues – who have no records of this time as their home was destroyed by the end of the war and Estaires left in ruins.
The two families also marked a long distance love story. Before he signed up, Lesley had fallen in love. He was in Dolcoath's mine St John Ambulance unit and one night had participated in a training session with young trainee nurses. Lillie Uren, from Beacon, was one of these women – and she practiced bandaging his knee. Click here to listen to an interview about this on BBC Cornwall.
"Their eyes locked – and the rest is history," says Susan Roberts, director of the charity Bridging Arts which has been marking the centenary of World War One in Cornwall over the past four years. "Lesley set off for war and left Lillie behind. They corresponded over the war years, and the family – quite miraculously – has preserved the letters and postcards carefully."
Along with the love letters between Lesley and Lillie are others written by the Smagghue family back to Lesley's family back in Camborne. Clearly a strong friendship was forged.
"Because of this friendship, we thought it would be important to discover if any Smagghues still lived in the area," says Susan. "With the help of the Town Hall in Estaires, we managed to track down some descendants of the people who welcomed Lesley so warmly. They were thrilled to discover this link – and photographs of their grandfather that they had never previously seen. It's wonderful that 100 years on they were reunited with the descendants of Lesley Pentecost."
The local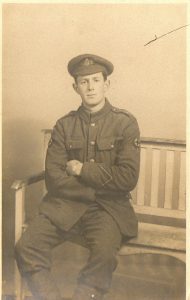 school – which was transformed into a hospital during the war by the Royal Army Medical Corp – staged a play and exhibition about this poignant story on Friday 9 November.
For more information, please email susanroberts@bridging-arts.com or call 07772 128 014.