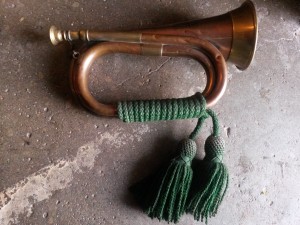 In Heart of Conflict, our work on Cornwall during World War One, we've uncovered many previously untold stories – including that of Fred Negus, one of the men from Dolcoath tin mine, near Camborne, who went straight out to the Western Front in 1914 and joined the 25th Field Ambulance, part of the  Royal Army Medical Corps.
One hundred years on, in August  2018, we travelled back out to the Front with Camborne Youth Band and Fred's great great grandson, Corey Williams, who  plays in the Band. Corey took Fred's bugle, which he brought back from the Front.  The Band played this bugle back in Estaires, where the men were stationed at the start of the war, and at the Menin Gate, Belgium, where tens of thousands of  men with no known grave are remembered.
Fred, and  other Cornishmen, played three rugby matches near Estaires in 1915 after Camborne Rugby Club sent out a ball. One of the men wrote back to the local paper saying that they had played on Whit Sunday – but instead of the music of Camborne Town Band, they had only 'the music of the guns'.
So 100 years after the end of the war, a Band from Camborne travelled back to the town – and there was the music of a Band from Camborne, not the music of the guns.
To read more about Fred's story, click here.